I joined a holiday ornament swap! It's great because you get 8-10 different *handmade* ornaments sent to you by the first week of December. It feels like Christmas arrived early and it's a great way to really get into the holiday spirit.
The only catch is that it is a swap so you have to make 8-10 ornaments (all the same) to send to different people. So this might be a source of stress if you don't enjoy the crafting part but it was fun for me...except that my group one year had a punk who accepted all the ornaments but sent nothing and gave this lame excuse (very much frowned upon) but another person made it up by sending TWO ornaments because she was a few days late. Ahhh...the holidays.
If you're interested, click the picture below or the one on my left-side bar. I'm looking forward to Thanksgiving weekend when I can get these done and shipped out!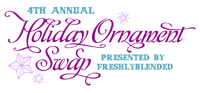 I swap with Swap-bot!
Cheers!
Sugar*mama
p.s. It's expected to snow again on Thursday.